Better than courses in small business
Knowledge is power. To help you succeed, we're constantly searching out the best in books on starting and running a small business. We believe that reading them can be better—and less expensive— than taking a course on each topic. Not to speak of boosting your profit. In addition to all-time favorites, each week we select a book of the week which we believe will be an exceptional help to you as you go about the tough task of running your business every day.
BIZ BOOK OF THE MONTH
TO BUILD

a successful business, you need to stop doing random acts of marketing and start following a reliable plan for rapid business growth. Traditionally, creating a marketing plan has been a difficult and time-consuming process, which is why it often doesn't get done.
In
The 1-Page Marketing Plan
, serial entrepreneur and rebellious marketer Allan Dib reveals a marketing implementation breakthrough that makes creating a marketing plan simple and fast.
It's literally a single page, divided up into nine squares. With it, you'll be able to map out your own sophisticated marketing plan and go from zero to marketing hero.
Whether you're just starting out or are an experienced entrepreneur, The 1-Page Marketing Plan is the easiest and fastest way to create a marketing plan that will propel your business growth.
In this groundbreaking new book you'll discover:
• How to get new customers, clients or patients and how to make more profit from existing ones.
• Why "big business" style marketing could kill your business and strategies that actually work for small and medium-sized businesses.
• How to close sales without being pushy, needy, or obnoxious while turning the tables and having prospects begging you to take their money.
• A simple step-by-step process for creating your own personalized marketing plan that is literally one page. Simply follow along and fill in each of the nine squares that make up your own 1-Page Marketing Plan.
• How to annihilate competitors and make yourself the only logical choice.
• How to get amazing results on a small budget using the secrets of direct response marketing.
• How to charge high prices for your products and services and have customers actually thank you for it.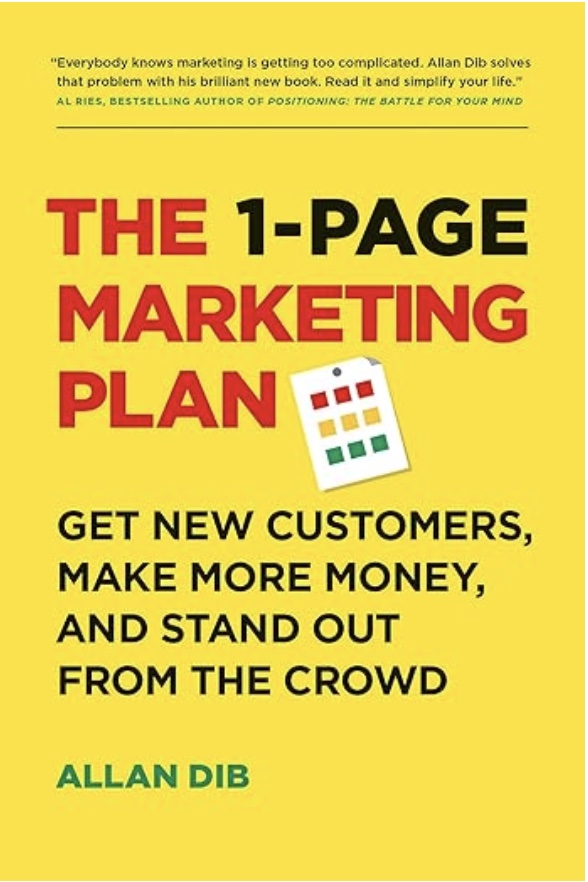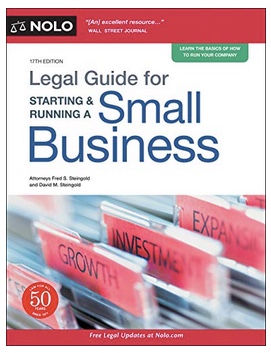 Legal guide
The Legal Guide for Starting & Running a Small Business has helped more than a quarter million entrepreneurs and business owners master the basics, including how to:
• decide between an LLC or other business structure

• save on business taxes

• get licenses and permits
• choose the right insurance
• negotiate contracts and leases
• avoid problems if you're buying a franchise
• hire and manage employees and independent contractors
• attract and keep customers (and get paid on time), and

• limit your liability and protect your personal assets.

This new edition explains how to do all of these things, taking into account coronavirus implications. Whether you're a sole proprietor or an LLC or corporation, a one-person business operating out of your home, or a company with a large staff leasing space, this book will help you start and run a successful business. 
The 17th edition is completely updated with the latest business tax rules and best practices for running a home-based business.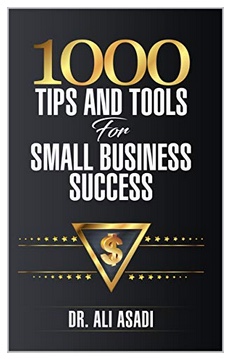 Informative guide
1000 Tips and Tools for Small Business Success is a compact, informative guide for small business owners and managers. Written by an expert business consultant, this handy volume provides helpful advice for all areas of managing a business. If you need answers to your HR, marketing, and operation management needs, you will find them here. If you want to be more productive, make better decisions, and even find a better business travel deal, you will find tips and tools here, and if you want good books or a smart quote, you will find it here too. Browse the book as you will, use the table of contents, flip the pages, or just open at a random page. You will find something you will need—something you did not know before.
Proven steps
OVER 10 YEARS, journalist Graham Fysh interviewed 120 successful small businesses, researching in depth the factors that lay behind their profitable ventures. As he probed deeper, he found common strands that linked them. He found that the winning small business owners all had taken 10 steps that contributed to their success. The steps are outlined in detail in this book. It is packed with real-life examples and case studies so the reader can see how the businesses applied the 10 steps to make their ventures successful. These steps can work for you, too, whether your business is only a concept, a start-up or an established company seeking to advance. Indeed, 10 Proven Steps to Small Business Success is essential reading for all small business owners.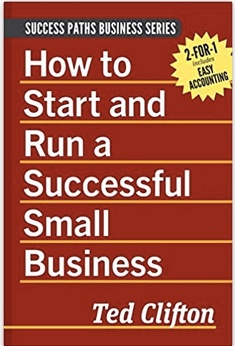 Personal view
In the second Success Paths business books series, Ted Clifton gives you a personal view of how to be a successful owner of a small business. First is what you should do to start a business. Next are guidelines on what the owner needs to know to run a successful business. How to Start and Run a Successful Small Business is a conversation between you, the future business owner, and Ted Clifton, a seasoned professional, CPA, business owner, and small business advisor, about the elements that contribute to success. This is not business school textbook stuff, but real-world knowledge and honesty.
What if you could connect with 7-figure business owners as soon as your venture (a small business, blog, YouTube channel—whatever!) begins?
What if you could effortlessly get on the radar of influencers just by being yourself? Imagine how connections like these will help your initiative skyrocket!
Four years ago, Michal was an lifelong employee entrenched in a large company; a shy introvert without a single business idea whatsoever. He did not know what a webinar was and had no Facebook account. Today Michal is active in several online communities, with authors, marketers, influencers and business owners. His works have been mentioned in Forbes and Business Insider. 
Michal interacts with millionaires and exchanged messages with Darren Hardy and David Allen. A rock star, with 2 million followers on Twitter, featured his blog post. His books got reviewed and recommended by bestselling authors.
In "Making Business Connections That Count" he explains how you can achieve similar results.In this book, you will learn:
• A foolproof method of getting on the radar of influencers
• Where to connect with top bloggers, podcasters and business owners
• How to provide value to them even if you are just starting out in the online business world
• How to drive your agenda without being perceived as bothersome
• How to stand out in anyone's crowd of followers
• How to network with influencers even if you don't yet know a single blogger
• How to initiate contact when you need a favor
• What is the hidden networking superpower available to everyone
• How to bring value to the table from day one
• How to discern between genuine and superficial relationships
• When it's OK to ask for a favor
• How to make an offer your partner will feel embarrassed to decline
• How to build friendships AND business connections
• How to do favors for big influencers without a big-time investment
• How to be authentic in your networking efforts, so you will never be mistaken for a sleazy salesman
Buy this book now by clicking on the image above, so you can create relationships with respectable peers and mentors, to boost your brand since day #1!
---
Discover how to craft a bulletproof business plan with minimal effort even it's your first time.
Having a great idea isn't enough to launch a multi-million-dollar business.
Let's face it, investors don't put money in ideas. They need concrete evidence that they'll get return on their investment, and a good business plan gives them such information.
Do you have a hard time figuring out how to get a business plan down on paper?
Are you tired and confused by all the business jargon, just wanting a straightforward how-to guide outlining exactly what you need to do?
Business plans are the heart and soul of a successful company – they give you focus and operational clarity that can kick major mistakes to the curb. No matter how good your business idea is, you will need a plan to create a solid foundation before going on the market or trying to get investors on board.
Did you know that even science says you need a business plan to make your startup a success?
One study found out that companies with a business plan grow 30% faster than competitors! In addition, startups with a business plan achieve more sustainable success in the long run.
So, what's the secret to writing a business plan like a seasoned pro or a Fortune 500 company CEO?
It's not something you'll learn in business school, as experience shows a completely different side of running a business. For best results, you need to learn from someone who's already been there and who has conquered the almighty business plan.
In How to Write a Winning Business Plan, you will discover:
• What a business model canvas is and 4 reasons why you should be using it
• How a great idea dies in the absence of good organization and the one thing to do about it
• 9 business plan building blocks to put organizational specifics in place
• Surefire ways to overcome financial conundrums and secure the investment needed to help your business thrive
• Ways in which successful CEOs mitigate business startup risks
• A bulletproof technique to write a killer value proposition
• Tactics for pinpointing the right customers and reaching them through the power of marketing
• A comprehensive guide to understand your business model in a structured way
• How to analyze the competition if you want to benefit from some competitive advantage
And much more.
Most guides focusing on business plan creation are rather vague, abstract, and non-specific. By relying on those, you'll never put together a tailored strategic document that will set you up for success from day one.
The methodology you'll find in How to Write a Winning Business Plan is derived from reality and analysis of the best corporate organizational approaches out there.
It doesn't matter what field you operate in or how big you want to grow. This methodology is the way to understand your business better, putting together realistic expectations and goals for the future.
---